If you have been following news coverage of the pandemic, you've probably heard of NIOSH-approved N95 masks. But what are they exactly? What the heck is NIOSH? Are KN95 masks any good? Can an N95 mask help with pollution from wildfire smoke? Whether you are an essential worker, home health aide, family caregiver, or a person with a disability or chronic illness who is immunosuppressed and at high risk, we have the information you need to choose the personal protective equipment that is right for your situation. Read on to learn more about the different kinds of respiratory protection and how they work, or click below to quickly shop for N95 and K95 respirator masks.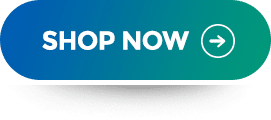 N95 Mask and KN95 Mask Information
What are N95 masks?
Respirator face masks are named based on the percentage of particulates they filter from the air. N95 masks are so named because they filter at least 95% of airborne particles, enough to help stop virus molecules from entering your nose and mouth. If the person wearing a filtering facepiece respirator mask has the virus, it will reduce the likelihood of them passing it to others because respiratory droplets will be contained within the mask. N95 masks are made of a non-woven, meltblown polymer (synthetic) fabric. Some are hard masks that look like a cup or clamshell, while others fold and are nearly flat when packaged.
What is the difference between an N95 mask and a KN95 mask?
In the United States, N95 respirator masks are certified for filtration efficiency by NIOSH, the National Institute for Occupational Safety and Health. Other countries have their own, similar requirements and testing procedures, so FFP2 masks (Europe), KN95 masks (China), and KF94 masks (Korea) are basically the same. Due to the pandemic, the FDA has created an Emergency Use Authorization list which allows the use of certified respirator masks from other countries in healthcare settings when NIOSH-approved N95 respirators are unavailable. The National Personal Protective Technology Laboratory (NPPTL), a division of the Centers for Disease Control and Prevention (CDC) has been testing imported surgical filtering facepiece respirators, including KN95 masks, to ensure they perform as advertised.
This video explains some of the similarities and differences between N95 and KN95 certified respirators:
Who should wear N95 face masks?
The Centers for Disease Control (CDC) recommends that health care workers wear N95 face masks with NIOSH approval as protection in settings where they are at high risk of being exposed to airborne particles that could carry the coronavirus (COVID-19) and other respiratory illnesses such as influenza. These viruses are primarily spread by respiratory droplets that enter the air and contaminate hands and surfaces when an infected person coughs, sneezes, spits or otherwise exhales bits of liquid containing the virus. Anyone who is working in public settings right now is at risk of becoming infected without the respiratory protection provided by N95 filtering facepiece respirators.
People with underlying health conditions such as diabetes, autoimmune disorders, organ transplant recipients, and other chronic illnesses and physical disabilities are also at high risk if they are leaving their homes or if home health care workers assist them with daily tasks. The World Health Organization recommends that people with underlying conditions wear medical masks with high filtration efficiency to protect them from airborne particles when they cannot maintain social distancing.
Here at Pandemic Pal, we believe that everyone who needs an N95 mask or KN95 mask to stay safe during this unprecedented public health emergency should be able to purchase them. With over 250,000 deaths in the US alone (we have to keep updating this number and get tears in our eyes every time), it is clear that giving the public access to medical grade respirators, not just cloth masks, could help turn the tide — especially because non-medical face masks protect others from the wearer more than they protect the wearer. If people around you refuse to do their part and wear masks, you can protect yourself from them with a KN95 or N95 mask for sale.
Can an N95 mask help with smoke from wildfires?
Forest fires release smoke containing carbon monoxide, carbon dioxide, nitrogen oxide, volatile organic compounds, and other harmful chemicals. If you are exposed to air pollution from brush fires and burning manmade structures, you may experience shortness of breath, coughing, a sore throat, headaches, and burning eyes. N95 masks can help protect your lungs if you are living in an area affected by a wildfire, including parts of California and Oregon. It is best to stay indoors when air quality is poor due to wildfires, but if you must spend time outside on a smoky day, wear an N95 face mask to protect yourself.
Why is it so hard to buy N95 masks online?
During this public health crisis, some retailers such as Amazon.com have restricted purchases of N95 face masks to hospitals and government agencies. While this may seem like a good idea in theory, it has the unintended effect of blocking some of the highest-risk people from purchasing genuine N95 masks — including home health workers, individuals with disabilities or underlying conditions, family members caring for high-risk loved ones, and essential workers at grocery stores, delivery drivers, etc. We want to make sure everyone who needs an N95 face mask can buy one, even if you don't work at a hospital. That's why we started this site!
We have spent the last few months researching the reasons why some hospitals and clinics do not have the personal protective equipment they need. It actually has very little to do with the number of masks available, and a lot to do with disrupted supply chains and institutions that are bureaucratic and inflexible. In short, some hospitals don't have enough respirators because their administrations either don't want to spend the money or refuse to work with new suppliers, even when their products can be verified as genuine. You can learn more in our article here: N95 mask shortage.
Be careful of fake respirators! Due to the shortage, a few sellers on sites like Amazon are listing counterfeit, poor quality masks that claim to be certified N95 masks. Check out our guide to avoiding counterfeit masks before you shop, and buy through our suppliers on this page, who are committed to only selling genuine N95 respirators.
N95 Medical Supplies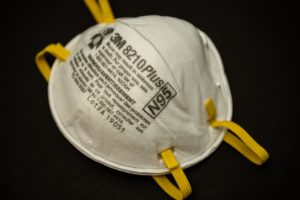 Disclaimer: Pandemic Pal does not sell the products listed below, we are simply providing a service to make them easier to find. Certified N95 face masks are proven to reduce the risk of contracting and transmitting respiratory illnesses. We do our best to verify the quality and authenticity of any product or vendor recommended here, but we cannot guarantee that any products listed on our site will mitigate, prevent, treat, diagnose or cure any disease or health condition. This page contains affiliate links, which means if you choose to make a purchase, we may earn a commission at no additional cost to you. Learn more.
N95 Masks for Sale – In Stock
These companies accept personal or bulk orders, so whether you need a small N95 mask supply for personal use or a large quantity of medical supplies for a hospital, nursing home, group home, or other health care facility, you can buy the medical grade face covering you need here.
We only promote vendors that deliver quality products, and prioritize those offering fast shipping so you can get your pandemic supplies quickly. Stay safe!
GF5 Masks — 3M N95 Masks and Certified KN95 Masks with Fast Shipping
Looking for low-cost, high-quality NIOSH N95 masks and KN95 respirators you can trust? GF5 Masks has them! They carry the most sought-after respirators from the gold standard in the business, 3M. Current models available include the NIOSH-approved 3M Aura 9205+ and 3M VFlex 9105 N95 mask.  They also offer the Certified EIMO KN95 mask for sale, which has received Emergency Use Authorization (EUA) approval from the FDA. This KN95 face mask was tested by the National Personal Protective Technology Laboratory (NPPTL) and passed with flying colors, exceeding the 95% filtration requirement. We wrote an in-depth KN95 mask review so you can learn more about this respirator. They also sell three-ply surgical masks and face shields. GF5 Masks will ship your order on the same business day from their warehouse in Florida, so you can get your personal protective equipment fast! They have donated more than 2,000 masks and face shields to hospitals, assisted living facilities, fire departments, churches, and other community organizations.
Discount code: Enter PandPal at checkout for 10% off your order!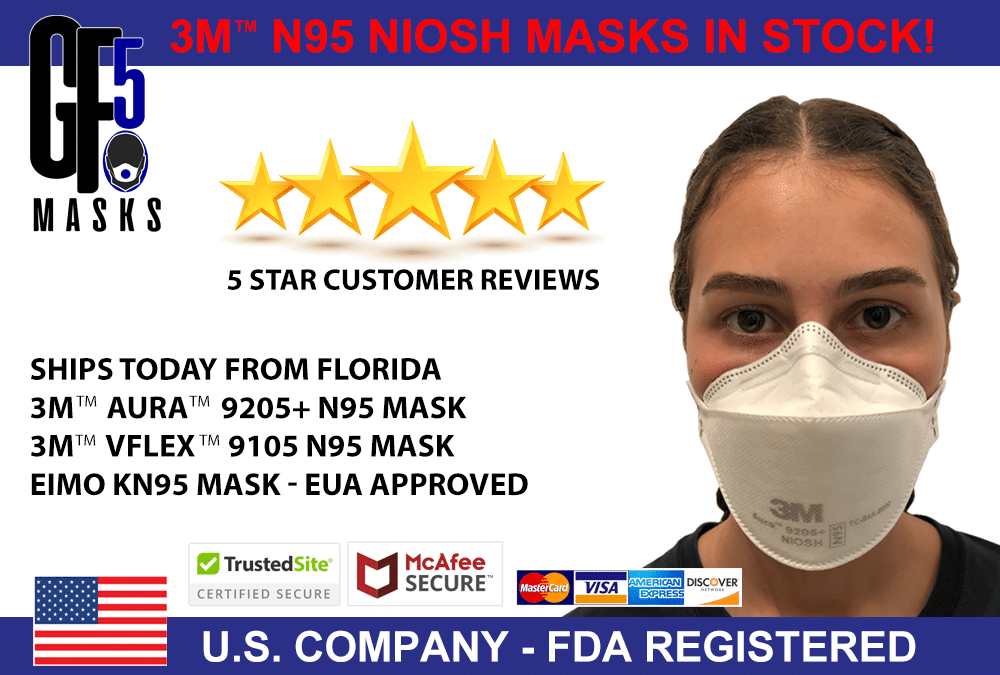 Protectly — N95 Respirators with Fast Shipping
Protectly offers medical masks for sale to the public at reasonable prices, considering the current conditions. They have several brands of NIOSH-approved N95 masks available that are hard to find elsewhere, including Moldex 4200, Moldex 2200, Medline 24506A N95 respirator mask, 3M 8210 N95 mask, and more. They also sell USA-made KN95 masks, face shields, disinfecting wipes, nitrile gloves, and other personal protective equipment. They ship orders within 2 business days from Oregon, USA, so you'll get the medical supplies you need quickly!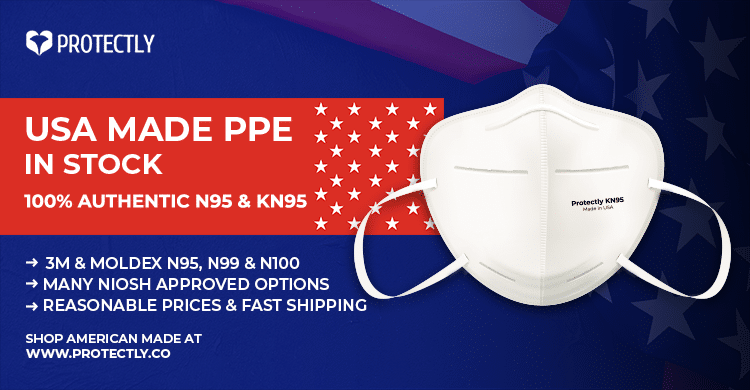 Almond Shield — NIOSH N95 Masks with Fast Shipping
Almond Shield offers cup-style and folding particulate respirators at great prices with fast, free shipping from New Jersey, USA. Their NIOSH-approved N95 masks for sale are latex-free and more comfortable to wear. These are high-quality filtering facepiece respirators made with multiple layers of non-woven, meltblown synthetic polymer fabric to protect the wearer from hazardous airborne particles.
Discount code: Enter pandemicpal at checkout for 10% off your order!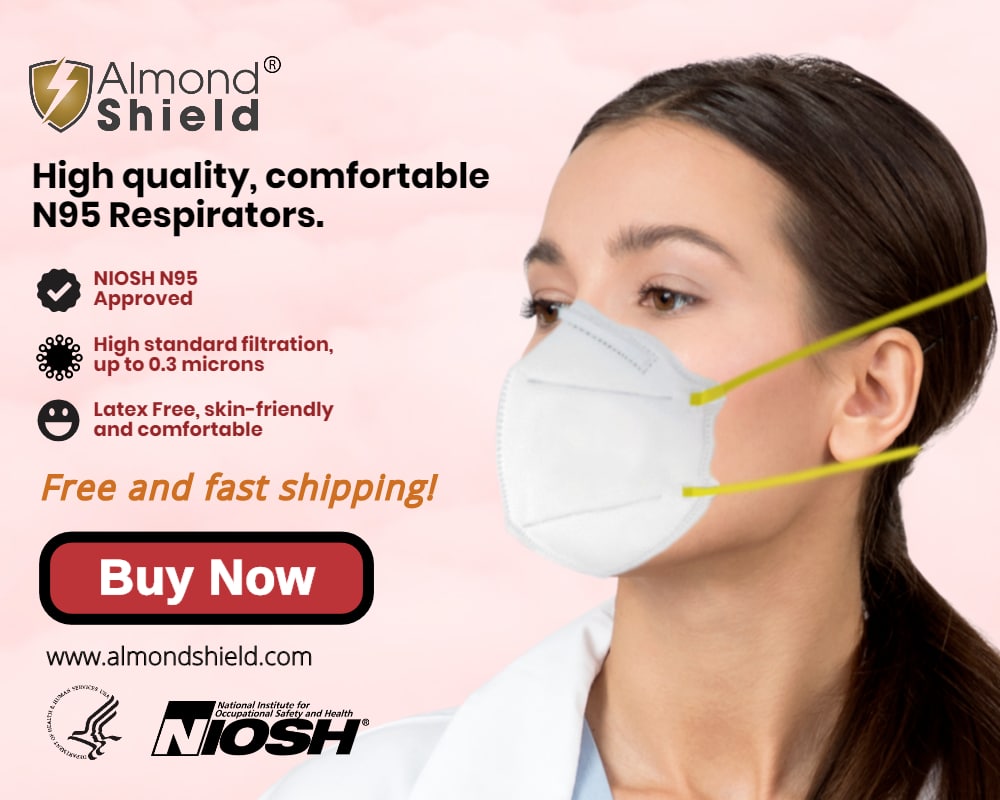 Well Before — 3M N95 Masks with Fast Shipping
Well Before (formerly known as Honest PPE) has the largest variety of NIOSH-approved respirator masks listed on our site, including 3M N95 masks, the most trusted brand in the industry. They carry the 3M 1860 respirator, which is rated for surgical use and fluid-resistant, as well as 3M 8210, 3M 8200, and several other 3M models. Other NIOSH-approved respirator choices include AOK 20180016-L, Harley L-188, Harley L-288, Makrite SEKURA-321, Makrite N95 9500 and Makrite N95 9600.  They also have KN95 masks for sale at a very good price, and other medical supplies such as face shields, hand sanitizers, wipes, and gloves. They offer fast shipping; items are mailed within two business days of receiving your order. Well Before / Honest PPE reached out to us because they love our mission of helping people with disabilities find personal protective equipment, so we are very happy to be sending customers their way. Check them out!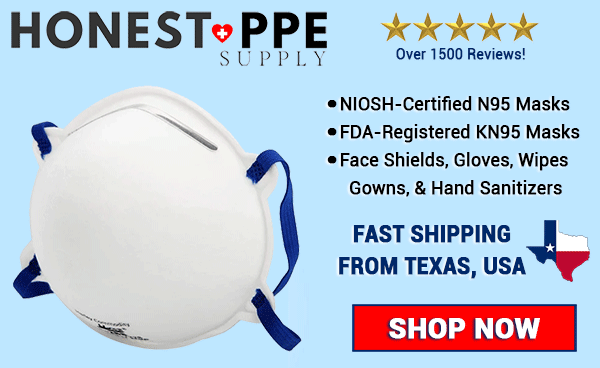 Clinical Supplies USA — 3M N95 Face Masks with Fast Shipping
We are excited to be working with Clinical Supplies USA to bring NIOSH-certified N95 masks for sale to you at a fair price with blazing fast shipping. They ship your order on the same or next business day from their warehouse in San Diego, CA, so you won't have to wait to get the medical supplies you need. They have many extremely hard to find American-made N95 respirator masks for sale including 3M models: 3M 9205+, 3M 8511, and 3M 8210. They also carry Makrite 9500 and the Honeywell Sperian ONE-Fit respirator. Plus they have more than just N95 masks — you can buy hand sanitizer, spray disinfectant, touchless thermometers, face shields, and gloves. They donate a portion of their profits to charity, and even give you an option to include a tip with your order. 100% of tips go to providing free safety supplies to vulnerable people.
Discount code: Enter PandemicPal at checkout for 10% off your order!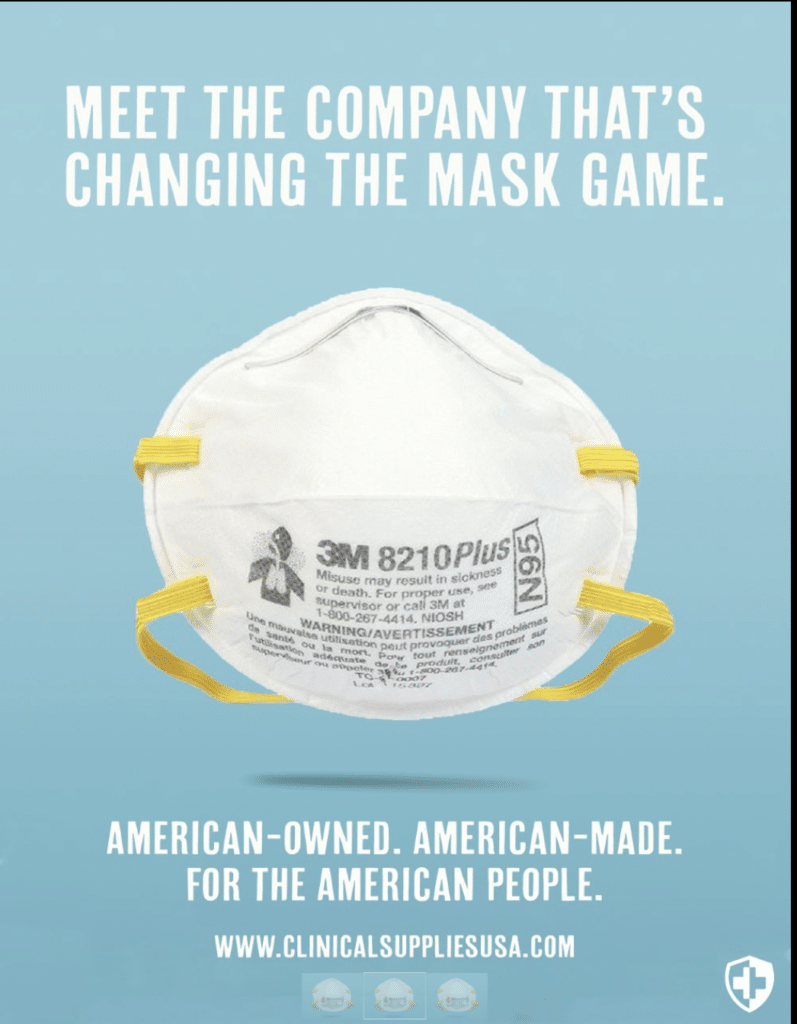 Amazon — KN95 Masks
Amazon initially made it difficult for sellers to offer N95 respirators to the public. However, they now have a small KN95 mask selection. We don't recommend buying medical masks on Amazon due to the high likelihood of receiving counterfeit items, but if you can't find what you need through any of our trusted sellers above, you can browse Amazon's options below.
This section is automatically updated 3 times per day.
As an Amazon Associate, we earn from qualifying purchases.
Last updated on November 29, 2020 7:13 pm
Don't see what you need on this list?
Search Amazon for KN95 Masks Search Amazon for KF94 Masks
Do you sell N95 masks and other personal protective equipment? We'd love to partner with you. Click here to email us.
Be a pal!
Sign up to unmask great deals on medical supplies and get the latest news on how the pandemic is affecting people with disabilities and chronic illnesses.
Hidden Content