If you have been following news coverage of the pandemic, you've probably heard of NIOSH-approved N95 masks. But what are they exactly? What the heck is NIOSH? Are KN95 masks any good? Whether you are an essential worker, home health aide, family caregiver, or a person with a disability or chronic illness who is immunosuppressed and at high risk, we have the information you need to choose the personal protective equipment that is right for your situation. Read on to learn more about the different kinds of respiratory protection and how they work, or click below to quickly shop for N95 and K95 respirator masks.
What are N95 masks?
Respirator face masks are named based on the percentage of particulates they filter from the air. N95 masks are so named because they filter 95% of particulates, enough to help stop virus molecules from entering your nose and mouth. If the person wearing a filtering facepiece respirator mask has the virus, it will reduce the likelihood of them passing it to others because respiratory droplets will be contained within the mask.
In the United States, N95 respirator masks are certified by NIOSH, the National Institute for Occupational Safety and Health. Other countries have their own equivalent, so FFP2 masks (Europe), KN95 masks (China), and KF94 masks (Korea) are basically the same. The CDC has approved the use of certified respirator masks from other countries when NIOSH-approved N95 respirators are unavailable. The majority of N95 respirators you will find in the retail market right now are KN95 masks, as China has a larger supply and has been shipping them to the USA. This video explains some of the similarities and differences between N95 and KN95 certified respirators:
Who should wear N95 face masks?
Medical experts recommend that health care workers wear NIOSH-approved N95 face masks as protection in settings where they are at high risk of being exposed to the coronavirus (COVID-19) and other respiratory illnesses such as influenza. These viruses are primarily spread by respiratory droplets that enter the air and contaminate hands and surfaces when an infected person coughs, sneezes, spits or otherwise exhales bits of liquid containing the virus. Anyone who is working in public settings right now is at risk of becoming infected without respiratory protection.
People with underlying health conditions such as diabetes, autoimmune disorders, organ transplant recipients, and other chronic illnesses and physical disabilities are also at high risk if they are leaving their homes or if home health care workers assist them with daily tasks. The World Health Organization recommends that people with underlying conditions wear medical masks when they cannot maintain social distancing.
Why is it so hard to buy N95 masks online?
Unfortunately, there is currently a global shortage of N95 masks for sale due to the pandemic. In response, some retailers such as Amazon.com have restricted purchases of N95 face masks to hospitals and government agencies. While this may seem like a good idea in theory, it has the unintended effect of blocking some of the highest-risk people from purchasing genuine N95 masks — including home health workers, individuals with disabilities or underlying conditions, family members caring for high-risk loved ones, and essential workers at grocery stores, delivery drivers, etc.
We want to make sure everyone who needs N95 face masks can buy one, even if you don't work at a hospital. But if you or your loved ones are not at high risk of life-threatening complications from the virus, you can buy non-medical face masks instead.
Be careful of fake masks! Due to the shortage, a few sellers are listing counterfeit, poor quality masks that claim to be N95 certified. Check out our guide to avoiding counterfeit masks before you shop.
Disclaimer: Pandemic Pal does not sell the products listed below, we are simply providing a service to make them easier to find. Although certified masks are proven to reduce the risk of contracting and transmitting respiratory illnesses, we cannot guarantee that masks for sale are genuine or verify the quality of any product or vendor. Therefore, we make no claims that any products listed on our site will mitigate, prevent, treat, diagnose or cure any disease or health condition. This page contains affiliate links, which means if you choose to make a purchase, we may earn a commission at no additional cost to you. Learn more.
N95 Face Masks In Stock
This page is automatically updated 3 times per day. We only promote vendors that deliver quality products, and prioritize those offering fast shipping so you can get your pandemic supplies quickly. Stay safe!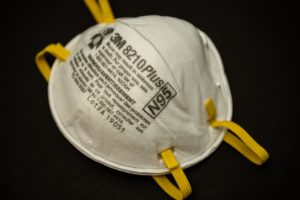 Clinical Supplies USA — Fast Shipping
We are excited to be working with Clinical Supplies USA to bring NIOSH-certified N95 respirators to you at a fair price with blazing fast shipping. They ship your order on the same or next business day from their warehouse in San Diego, CA, so you won't have to wait to get the medical supplies you need. They have many extremely hard to find American-made masks for sale including 3M models: 3M 9205+, 3M 8511, and 3M 8210. They also carry Makrite 9500 and the Honeywell Sperian ONE-Fit respirator. Plus they have more than just masks — you can buy hand sanitizer, spray disinfectant, touchless thermometers, face shields, and gloves. They donate a portion of their profits to charity, and even give you an option to include a tip with your order. 100% of tips go to providing free safety supplies to vulnerable people.
Discount code: Enter PandemicPal at checkout for 10% off your order!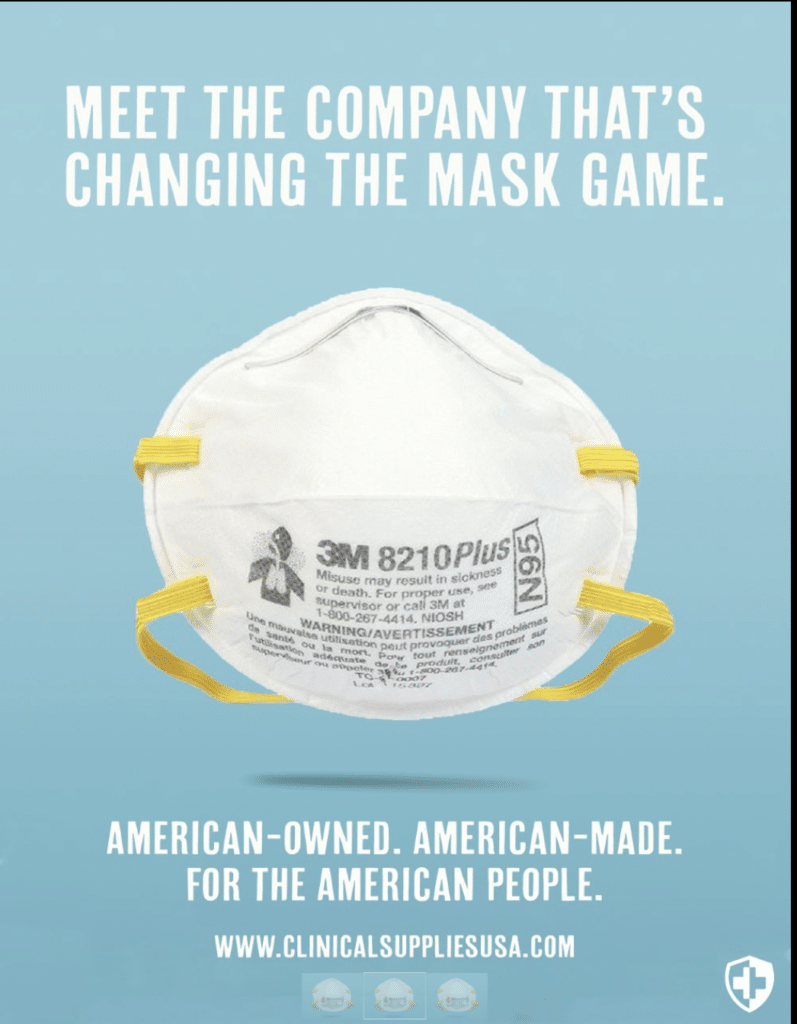 DMB Supply — Fast Shipping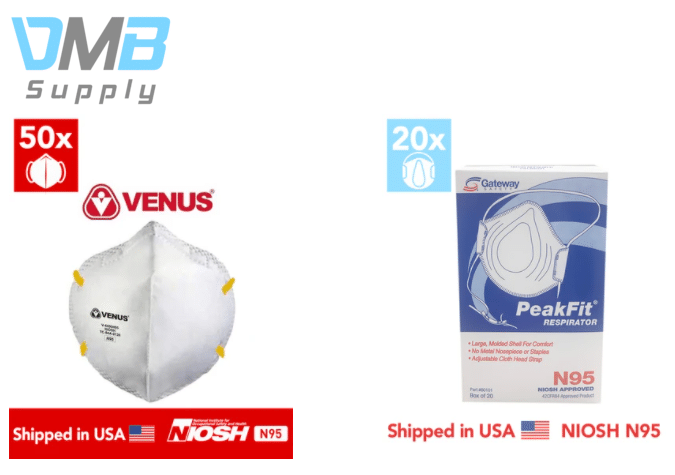 DMB Supply offers a variety of respirator choices, including the NIOSH-approved Venus V4400 and Gateway PeakFit, and DAYLEAD FFP2/KN95 Efficient Nursing Protective Mask. They also sell three-ply surgical masks, face shields, disposable gloves, disinfecting wipes, hand sanitizers and thermometers, making them a one-stop shop for all the personal protective equipment you need Orders are shipped the next business day, so you'll get your PPE quickly!
Honest PPE — Fast Shipping
If you are looking for NIOSH-approved respirator masks, Honest PPE offers Harley L-188, Harley L-288, Makrite SEKURA-321 Makrite N95 9500 and Makrite N95 9600 — these are the meltblown hard masks that resemble a clamshell and offer the strongest possible protection from viruses and particles. They have KN95 masks with earloops for sale at a very good price. They also sell other medical supplies such as face shields, hand sanitizers, wipes, and gloves. They offer fast shipping; items are mailed within two business days of receiving your order. Honest PPE reached out to us because they love our mission of helping people with disabilities find personal protective equipment, so we are very happy to be sending customers their way. Check them out!

CovCare
CovCare is making medical masks for sale to the public at reasonable prices, considering the current conditions. They have several brands of US-based, NIOSH-approved respirator masks available that are hard to find elsewhere, including Makrite 9500 N95, UniAir SH9550, Harley L288, Alpha Pro Tech, and 3Q brands. These are the hard masks made with multiple layers of non-woven, meltblown synthetic polymer fabric to filter out hazardous particles. They accept personal or bulk orders, so whether you need just a few medical masks for personal use or you need medical supplies for a hospital, nursing home or group home, you can buy the medical grade face covering you need here. They also sell hospital gowns for health care workers, face shields, and other personal protective equipment. They ship within the USA and internationally.

N95 Medical Supplies in Stock
This site sells many surgical filtering facepiece respirators you won't find elsewhere, including SanHuei SH9550, Benehal SC-MS6115L, FANGTIAN FT-N058, Benehal MS8225, SanHuei SH3500, Shigematsu DD02V-N95-2K, and Makrite 9500-N95S. They ship worldwide, and with express shipping, you can receive your order in 3-7 days to USA addresses, and 5-10 days to addresses in Europe.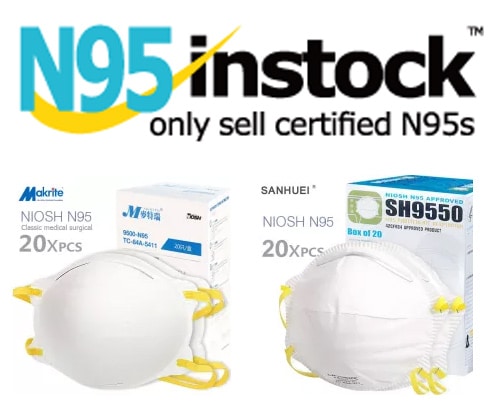 Amazon
Amazon initially made it difficult for sellers to offer respirator masks to the public. However, they are now more readily available and you can see the masks in stock below.
Last updated on September 19, 2020 2:13 am
Don't see what you need on this list?
Search Amazon for KN95 Masks Search Amazon for KF94 Masks
Do you sell personal protective equipment? We'd love to partner with you. Click here to email us.
Be a pal!
Sign up to unmask great deals on medical supplies and get the latest news on how the pandemic is affecting people with disabilities and chronic illnesses.
Hidden Content